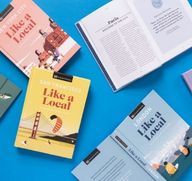 The Bookseller – News – DK Eyewitness launches new travel guides
DK Eyewitness is releasing a new series of collectible travel guides to reflect changing attitudes during what the publisher describes as a "post-Covid" era.
The Like a Local collection will focus on unveiling a city's unexpected treasures, little-known galleries, backstreet shops and restaurants, going beyond landmarks and tourist destinations. They will also focus on small businesses, stores and businesses.
The first six titles in the series have just been released and include guides to Tokyo, New York, Dublin, San Francisco, Paris and London. Six more will be released in January 2022.
Publishing Director Georgina Dee said: "Although the idea for our Like a Local series was born before the pandemic, the last 18 months have seen a real shift in the way people appreciate, support and celebrate small businesses. local. And we anticipate that this new appreciation will contribute to future travel priorities, as city-breakers think outside the box to experience a more authentic side to the world's greatest destinations, in turn supporting the people and businesses that make them great.
"These beautiful, collectible guides are the first major new series of travel guides to be launched post-pandemic and are a defining moment, not only in our publishing, but for the entire travel publishing community."
The publisher initially suspended publication of new guides last year after the onset of the global pandemic, resuming production in April this year with new editions of guides, such as DK Eyewitness Italy, DK Eyewitness Scotland and Top 10 Lake District, as well as the new renamed and redesigned Road Trips guides.