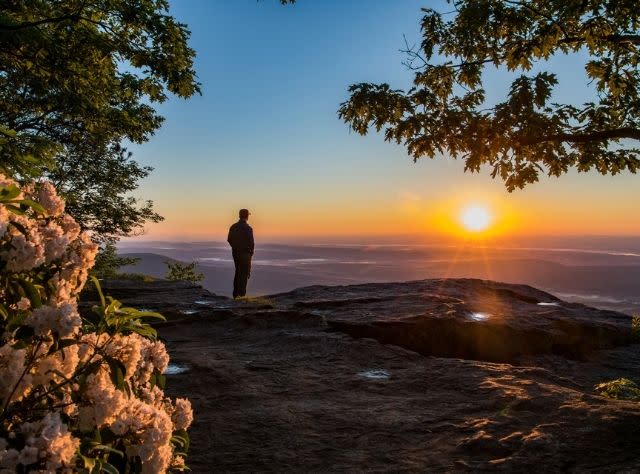 Take a Solo Trip to New York State
Go solo on your next New York State adventure! With unique accommodations, award-winning wineries, and exhilarating outdoor experiences, New York State offers endless opportunities to explore. From finding serenity in the mountains to sampling local cuisine on a farm stay, you'll experience an extraordinary and indulgent journey. Masks are still required on all public transportation per New York State guidelines and at any business or attraction requiring the wearing of a mask. Call ahead and check websites and social media to make sure attractions are open and available.
Updated on 08/01/22
Courtesy of @carriagehousecookingschool
Expand your palate and your cookbook as you learn to prepare a new dish at the Carriage House Cooking School in Peru. "Risotto Stirred Simplicity" is just one example of the interactive cooking classes available for all levels of cooks. The course will help you master the art and science of making great risotto by creating three scrumptious dishes featuring sausage, seafood, and mushrooms. Joining a class is a great way to meet other travelers while learning about the flavors and ingredients of the region. Price varies by class.
Embark on the Seneca Lake Wine Route to discover scenic vineyards located along one of the pristine Finger Lakes. With award-winning wines and breathtaking views, enjoy wine tastings from over 30 wineries, including Glenora Wine Cellars in Dundee, Miles Wine Cellars in Himrod, Three Brothers Wineries & Estates in Geneva and Belhurst Estate Winery in Geneva . If you're interested in tasting at multiple wineries, consider transportation options with limos and local tours. Also check out the Cayuga Lake Wine Trail and Keuka Lake Wine Trail to explore other great Finger Lakes wineries.
Courtesy of @starr24
With uniquely decorated rooms and treats such as homemade pies throughout the day, WhistleWood Farm Bed and Breakfast in Rhinebeck offers a simple yet amazing farm stay. Using local ingredients, WhistleWood Farm offers breakfast items like buttermilk pancakes, eggs, fruit and more. During the day, interact with farm animals—horses, cows, chickens, and donkeys—and stroll along farm trails to get a sense of the beauty of the Hudson Valley.
Courtesy of @adkmtnclub
Outdoor enthusiasts or budding outdoor enthusiasts, get ready to explore the wilderness by attending a skills workshop with the ADK Mountain Club. Some of this year's workshops include 'Backcountry Water Monitoring', where you learn to identify native and non-native species on the water 'Map and Compass Fundamentals Workshop', where you develop important map and compass skills, and "Outdoor Leadership", where you learn to be a leader in the outdoors. Some workshops are free while others are paid and registration is available online.
Pamper yourself with a getaway to YO1 Health Resort in Monticello, an Ayurvedic health center offering personalized treatments. Day passes include a massage, mud or hydrotherapy treatment, yoga session, meditation session, three vegetarian meals, fresh cold-pressed juice, and access to the locker room, indoor pool, fitness center and walking/biking trails. A three-day wellness program and health management programs are also available. Make time for yourself or interact with other guests during your visit. Please reserve in advance.
Are you ready for a thrilling white water rafting experience? Whitewater Challengers Adventure Center should be next on your list! With rafting trips in the Thousand Islands and the Adirondacks, there are plenty of opportunities to explore from the water. The Black River near Watertown provides a fun experience during the summer months. Each trip includes a "snack on the river" and a drink. The Hudson River trip in the Adirondacks includes 15 miles of class 3-4 rapids. If you're looking for a less adrenaline-filled trip, try rafting in the summer or fall, as the rafting season runs from April through October. Both trips focus on safety and are led by experienced guides. Also check out the Adirondack River Outfitters white water rafting trips on the Black River, Hudson River and Moose River. For exhilarating rapids, visit Moose River in April. For less intense water, go later in the season when the river is perfect for beginners and families. The price varies for the two white water rafting providers.
Head 156 feet underground to explore impressive caves and rock formations illuminated by colored lights at Howe Caverns. With a temperature of 52 degrees all year round, the caves are the perfect place for visitors of all ages, at any time of the year! The traditional tour offers a 90-minute experience with exploration on foot and by boat. For a nighttime experience, try the two-hour Lantern Tour, offered by reservation only on Friday and Saturday nights in summer and select weekends in winter. The Lantern Tour is for guests 16 years and older only. Pricing varies and reservations must be made online. Open daily from 9 a.m. to 5 p.m. until Labor Day. Tours depart every hour. Advance visits must be booked online.
A trip to the East End of Long Island is not complete without stopping at the Montauk Lighthouse. The National Historic Landmark, built in 1796, was New York State's first lighthouse. Once you've seen the views from Lighthouse Park, learn about the significant history of the Montauk Lighthouse at its onsite museum, where you'll see photographs, documents, and more illustrating the site's history. Adults: $13; seniors: $8; children (up to 12 years old and minimum height of 41″): $5.
Whether you're driving along Avenue of Pines or walking along a tree-lined trail in the woods, Saratoga Spa State Park is a must-see destination that's beautiful all the way. of the year. The 2,000+ acre park is home to a plethora of outdoor activities. Have a drink at the mineral springs and admire the geyser and limestone formations. During the summer months, swim in the park's pools, and during the winter months, go cross-country skiing, snowshoeing or ice skating. The price varies according to the season and the activity, sometimes it's free.
Sit at the bar and dine at a Buffalo Corner Tavern (Greater Niagara)
From classic dishes and drink specials to quirky decor and friendly faces, a stop at one of Buffalo's Corner Taverns will make you feel like a local on your solo trip. With each corner tavern offering its own unique story, enjoy a meal at the bar while listening to stories from years past. Rohall's Corner, located at the corner of Amherst and Reservation streets in the Black Rock neighborhood, offers several different wines and beers, some even served in their authentic wooden coolers. The Place, located in Elmwood Village at the corner of Lexington and Ashland Avenues, opened in the 1870s and was officially named "The Place" in 1941. Their chef created daily menu changes to provide the most options. exciting and freshest. Whichever Buffalo Corner Tavern you choose, the combination of history and hospitality will not disappoint.
Channel your creativity at Westfield's Living Glass Gallery. The Glass Workshop and Gallery offer year-round classes for learners ages 12 and up. Learn how to create stained glass – there are classes for beginner, intermediate and advanced artists – or create a mosaic piece during the 'The Art of Mosaic' workshop. While you're there, browse the gallery to see the beautiful creations of Living Glass Gallery owner Denise Williams and other local artists. The gallery is open on Saturdays from 10 a.m. to 4 p.m. or by appointment. Summer hours are May through August and include additional open days. The price varies.
With over two million pieces on display, the Metropolitan Museum of Art, also known as The Met, is an oasis for art lovers of all generations. Representing over 5,000 years of history from around the world, the Met features current exhibits that last less and ongoing exhibits that act as museum staples. The Met also hosts pieces by renowned artists, such as Claude Monet, Pablo Picasso, Georgia O'Keeffe and Jackson Pollock, to name a few. Open every day; Sunday to Thursday from 10 a.m. to 5 p.m. and Friday and Saturday from 10 a.m. to 9 p.m. General admission price varies.
Don't forget to share your summer vacation with us! Share photos of New York State on Instagram and Twitter with #ILoveNY and #iSpyNY and tag us on Facebook!