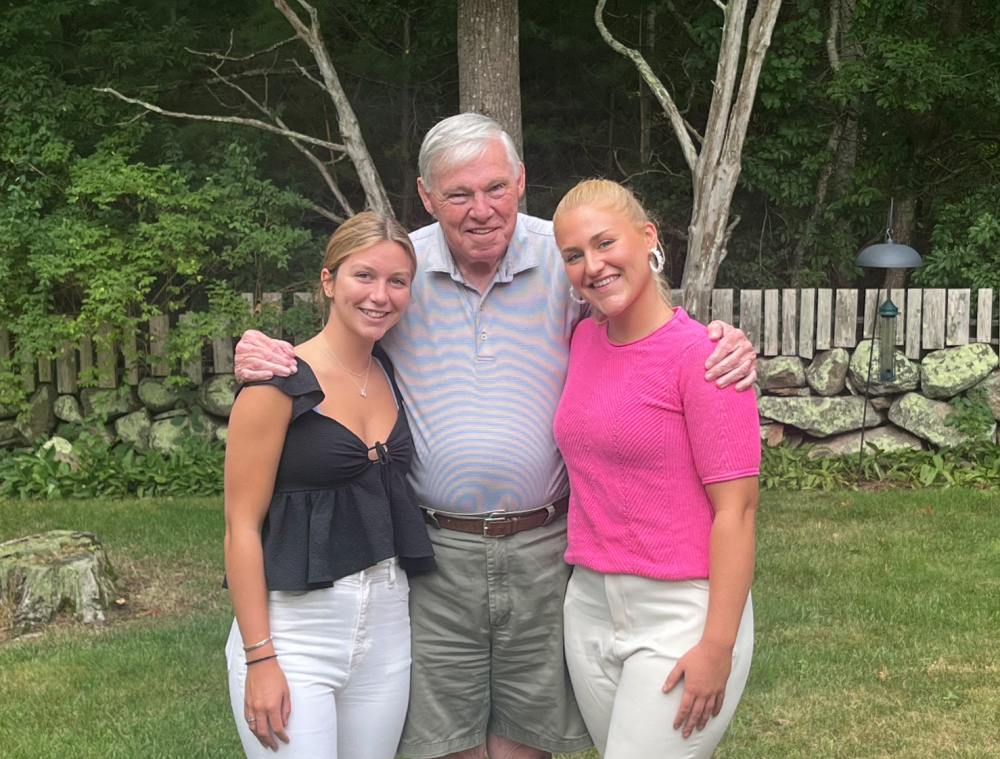 Local family publishes South Coast travel guides
MATTAPOISETT — The Quinlan family isn't afraid to take the leap together. For Henry Quinlan's 80th birthday, his granddaughter, Caroline Murphy, took him skydiving.
For his 81st, they had to think of a way to top that.
Equally exciting, they decided to publish a book together.
"I had this idea," Quinlan explained.
He compiled a list of hidden gems, fun facts and important things to see on the south coast to write the book, "So you think you know the south coast?" »
The book is published by Quinlan's own publishing house, Omni Publishing, and includes entries on Wareham, Marion, Mattapoisett, Rochester, Acushnet, Fairhaven, New Bedford, Dartmouth, Westport, and Fall River.
Murphy took the photos for the book, walking around to rediscover different landmarks of where she grew up.
"The experience of exploring where I grew up was interesting, I found a lot of cool new places," Murphy said.
Murphy is about to start his final semester at the University of Massachusetts at Dartmouth.
She grew up in Mattapoisett with her sister, Emily Murphy, who took pictures for the upcoming episode, "So You Think You Know Cape Cod?"
Quinlan, who lived in Wareham until last year, is originally from Brookline. Although he earned an economics degree from Boston College and a law degree from Suffolk University, he says he has always worked in publishing. He established his first company, Quinlan Press, in 1972.
He has published dozens of books. Notably, he oversaw the Russian publication of "Make Way for Ducklings" in 1991. The then-first lady's chief of staff, Barbara Bush, called Quinlan to ask him to help oversee the transportation of the statue." Make Way For Ducklings", which is now on display. in the Moscow Park and the publication of the Russian translation of the book.
It may seem like a random connection, but Quinlan had strong ties to Russia. After Chernobyl, he spoke with a Soviet diplomat named Vitaly Churkin who appeared before the congress. Quinlan thought the diplomat would be a good person to write a book. The book itself was never written, but the two remained lifelong friends.
When Quinlan retired, he was just looking for something to do with his spare time, so he started going to senior centers and teaching memoir writing classes. His students began asking him to help publish their memoirs, so he formed Omni Press. Initially he worked in Wareham, where he has lived for the past fifteen years, before moving to Merrimack, New Hampshire last year.
Through Omni Press, Quinlan has worked with some local authors, such as residents Marion Barbie Burr and Ed Hoffer.
It makes Omni a family business. He is the only full-time employee, although he is helped by contractors – and his granddaughters.
"He's funny, he'll hit us up out of the blue and say, 'I need this,'" laughed Murphy. She mentioned that she and her sister did odd jobs for him, like sending emails, but the books were their most complex project.
Soon Murphy's cousin and another of Quinlan's granddaughters, Kelly Quinlan, will join the team. Kelly is a rising junior at ORR and a "star on the lacrosse team," Quinlan said. Kelly will be taking the photos for the next book project on the South Shore.
"The concept is to take pictures of things that people see every day, but don't recognize the story behind them," Quinlan explained.
There are three books now, "So You Think You Know the South Coast?", "So You Think You Know Cape Cod?", and "So You Think You Know Nantucket?"
Quinlan said the books work great, especially as stocking stuffers, and can be found all over the South Coast in bookstores and gift shops. They are also available online via Amazon and the Omni publishing company website.