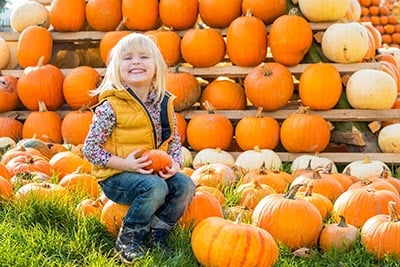 All-Fall Destination Guide: Apples, Corn Mazes, and Pumpkin Patches
Join our Telegram channel to stay updated on the latest news coverage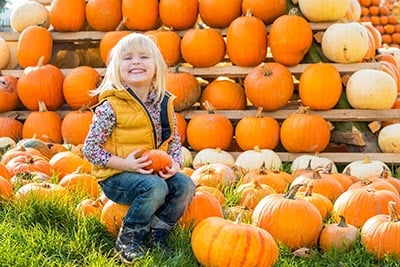 Story from the Shenandoah Valley Travel Association
Straw bales, flannel, apple cider and giggles make for the perfect Saturday in the Shenandoah Valley each fall. Families flock to farms hosting pick-your-own harvests, wagon rides, livestock petting areas and seasonal flavors. Others often take the shortcut of shopping our farmers markets for pre-harvested produce and other seasonal delights.
If you are looking to create such memories for your album, we have a few destinations that will more than meet your expectations.
Massanutten Country Corner | Luray
When you don't want to pick your own apples or pumpkins, you can head to Massanutten Country Corner to pick out what's been hauled from the orchard and field. A fun addition the kids will enjoy is the farmyard where friends like Peaches the goat (and her babies) and the Three Little Pigs – Winston, Wally and Wilbur – all reside.
Marker-Miller Orchards | Winchester
Picking your own produce makes it taste better for some reason. Don't believe us? Try a stop at the Marker-Miller orchard to pick your own apples in September and October. Choose to fill a small, medium or large bag with apples from their 325 acre orchard.
Shenandoah Heritage Market | Harrisonburg
Cross the covered bridge to the front door and enter the largest country market in the Shenandoah Valley when you visit the Shenandoah Heritage Market. Inside, you will find fresh seasonal produce ready to take away. Also check out their bulk foods, Amish furniture, popcorn, clothing and more.
Valley Pike Farm Market | Weyers Cave
Much more than a deli, bulk market, or whatever else you can think of, Valley Pike Farm Market offers it all and more. Come for the restaurant, craft beer and wine, ice cream, Rumor Mill Coffee and, of course, the pumpkins that adorn their porch each fall. There are beautiful gifts inside as well as special events for you to enjoy.
The Dayton Market | Dayton
There are more pumpkins than meets the eye at the Dayton Market. They come in all types, including felt, wood, and velvet. Artisans of all kinds fill the spaces of Dayton Market, and much of it has to be seen to be appreciated. Shop potters, basket weavers, needlecrafters, jewelers and more. Every fall themed decor you can think of is here.
Back home to the farm | Harrisonburg
Back Home on the Farm is one of the Shenandoah Valley's most popular destinations for fall family fun. Find your perfect pumpkin from over 60 varieties planted on their seven-acre plot. Children love the Grampy Petting Zoo, cow train, carousel and of course the myriad other activities that await them, such as photo stations, mini golf and climbing walls. Don't miss the slushies and Apple Cider donuts.
Open from September 6 to October 30; The pumpkin patch opens September 15
Showalter Orchard | Timberville
Old-fashioned and full of nostalgia and love, Showalter's Orchard sells its pick-your-own apples by 1/2 pimple, pimple, 1/2 bushel, or bushel. Writing that just makes my heart sing. It may not be too late to pick your Golden Delicious, but Jonagold, Granny Smith, Stayman, Rome Beauty, Fuji, York, and Pink Lady are still due in early November.
Fun Note: Showalter's Orchard is the home of Old Hill Cider
Mulberry Hills Farm | Mount Crawford
At Mulberry Hills Farm, families can pull a cart across the field to find their favorite pumpkins. Note that "as many as you can carry" offers are available. For those who don't particularly want to play hide and seek with pumpkins, there are also pre-picked pumpkins for sale. A variety of photo spots await, and the barn is filled with stalled farm animals you'll love. Don't miss their LOVEwork.
The Pumpkin Patch at Hill High Farm | Winchester
Families easily spend part of the day at the Pumpkin Patch at Hill High Farm. They offer free entertainment for children like the round ball maze and petting zoo. Paid activities include wagon rides and the corn maze. Admission and parking are free.
Haunted Nightmares is the haunted house party event at Hill High Farm. Guests are also encouraged to bring a flashlight to try out the corn maze in the dark or ride the hay wagon to the pumpkin patch for harvest by moonlight.
Open Saturdays and Sundays from September 22 to October 28
Orr's Pumpkin Patch | Martinsburg, West Virginia
Apples, pumpkins and corn mazes, oh my! Try it all at Orr's Farm Market and Pumpkin Patch.
Spookley the Square Pumpkin lovers will find it at Orr's Pumpkin Patch. Spookley is a character in a series of children's books about bullying. The Orr Farmers Market hosts Spookley the Square Pumpkin as part of National Bullying Prevention Month (October). Spookley will be integrated throughout the month with a Spookley-themed pumpkin patch, special storybook hours, and even a smaller Spookley maze for the little ones.
Purchase an admission wristband depending on the activities you wish to participate in. Orr's offers wagon rides to and from the Pumpkin Patch, the Orrnado Double Slide, corn mazes, the Farmer Fun Playground, and access to a number of other fun things the kids will want to do. Have fun and don't forget your Apple Cider all.
Pumpkin Patch open Sept. 9-Nov. 5; close on Sunday
pick-your-own apples from September 2 to October 29; requires a reservation
Rinker Orchards | Winchester
Since 1972, people have been picking their own apples at Rinker Orchards. From Red Delicious to Granny Smith and beyond, there are plenty of varieties for whatever your apple cravings may include.
The apple orchards are open from September 10 to October 10
Old McDonald's Pumpkin Patch and Corn Maze | Inwood, West Virginia
Old McDonald's Pumpkin Patch and Corn Maze features two five-acre corn mazes, hiking trails, a playground, two giant slides and more. Consider an evening visit with the Night Maze. It's offered on select dates from 7-10 p.m. and includes wagon rides, access to both corn mazes, and the chance to just sit by the campfires.
Open from September 24 to October 30
Founded in 1924, the Shenandoah Valley Travel Association (SVTA) is one of the oldest organizations promoting regional tourism of its kind in the United States. The association promotes the tourism assets of the beautiful and historic Shenandoah Valley to the rest of the world through its website – VisitShenandoah.org -, digital campaigns and public relations with the media.
Join our Telegram channel to stay updated on the latest news coverage