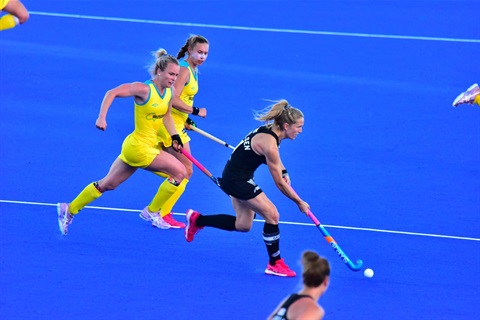 Advance Rockhampton Launches Rockhampton Sports Destination Guide
Rockhampton Area Council's economic development unit, Advance Rockhampton, continues to put Rockhampton on the radar with the launch of a new Sports Destination Guide.
The Rockhampton Area Sporting Destinations Guide is an 86-page document showcasing the large number of major sporting complexes and venues across Rockhampton. The guide also profiles local caterers, physiotherapists, accommodation providers and group transfer companies aiming to bring more major sporting events to the area.
Rockhampton Regional Council Mayor Tony Williams said the Rockhampton area is home to national, international and Olympic level sporting facilities that nurture beginners through to professional athletes.
"With world class hockey pitches, fina certified swimming pool, outdoor velodrome, 2000m flat water rowing course, top notch mountain biking trails, A grade netball and football pitches and our subtropical climate, Rockhampton is a suitable destination for all levels of sporting competitions and championships," said Mayor Williams.
"Our city has hosted many major sporting events in the past such as the 2019 Oceania Cup, the 2021 KTM AJMX Championships and of course all three 2021 Premiership NRL matches last year.
"Major sporting events like these are not only good for our economy, but they also bring our city to life and evoke a sense of pride within our community.
"The Rockhampton Sports Destination Guide builds on the great work the team at Advance Rockhampton have done behind the scenes to help build a livable and visitable region."
Advance Rockhampton Executive Director Greg Bowden said the Rockhampton Sports Destination Guide aligns with Advance Rockhampton's economic development strategy.
"We are putting Rockhampton on the radar as a destination of choice among state and national sports bodies, schools and sports clubs."
"Last year's NRL matches generated a combined economic spend of $1.9 million, so we know that major sporting events and championships drive our economy and increase our visitor numbers.
"This new guide is not an Olympic guide, but today's launch is timely as planning for the Brisbane 2032 Olympics gathers pace.
"As the Olympics are hosted by our capital, Rockhampton can get involved in many ways over the next ten years, from attracting training camps, supply chain opportunities and of course visits. additional planned before and after the Games across Queensland.
"This proves that promoting our world-class sports facilities to top organizations across the country should continue to be an important priority for us over the coming years."
/Public release. This material from the original organization/authors may be ad hoc in nature, edited for clarity, style and length. The views and opinions expressed are those of the author or authors. See in full here.