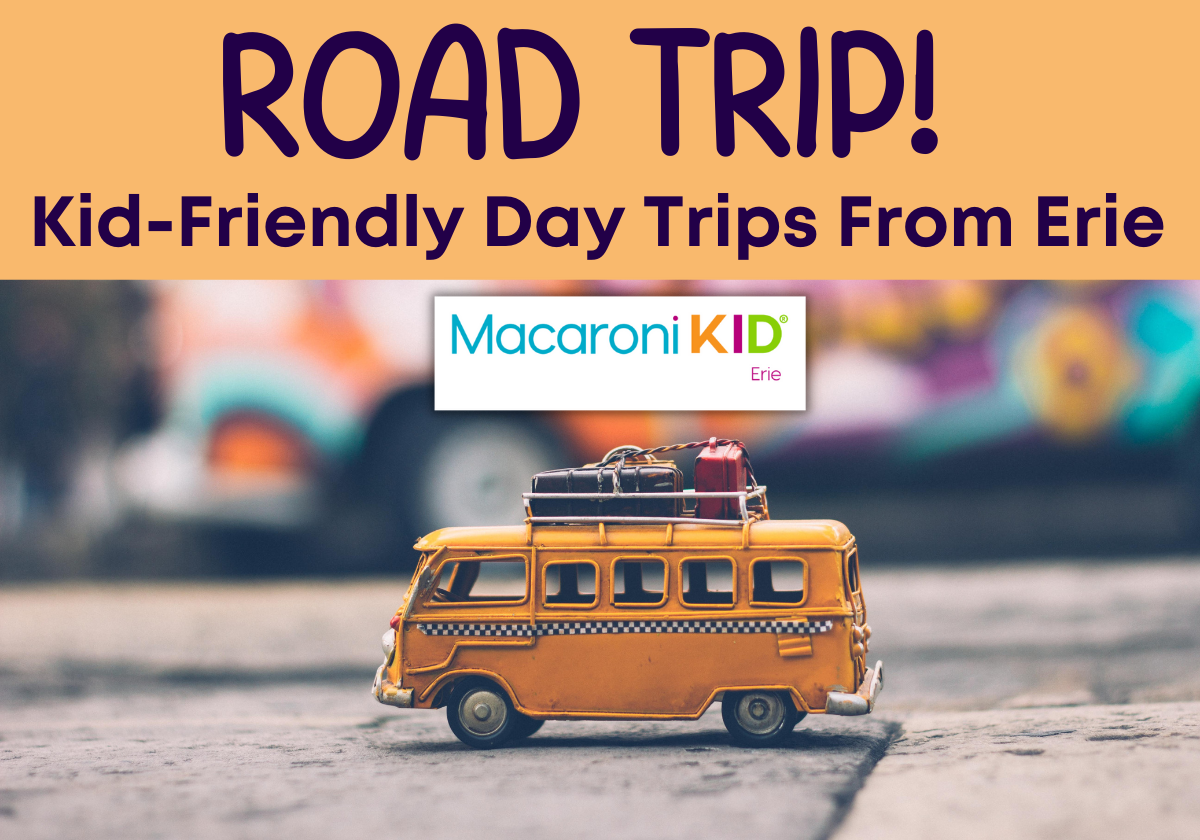 50 Day Trip Ideas From Erie
Itching to get out of Erie for the day? There's a ton to do right here at home, sure, but sometimes a road trip is the best kind of family fun!
To make planning easier for you, we've compiled a list of 51 places to explore in New York, Ohio, and Pennsylvania, all within a 2-hour drive of Erie. All locations listed are outside of Erie County. Click here to see my family's picks for Erie's Top 10 Attractions!)
Is there a place your family loves that isn't listed here? Talk to me by sending me a message at [email protected]
Note: Locations and free events are listed.
New York | Ohio | Pennsylvania
---
A map of the locations mentioned in this article:
---
Chautauqua County
Panoramic Rocks of Panama Park
Explore crevices, passages, and caves hidden in an ancient forest among 60-foot-tall rocks. Also…axes! Open seasonally.
Peek n' Peak Resort
Skiing, snowboarding, tubing and indoor/outdoor pool complex!
National Comedy Center
Over 50 interactive exhibits, including kid-friendly entertainment, like a chance to 'draw' yourself. See our review!
Chautauqua Institution
Summer series of lectures and performances in this community located on the edge of Chautauqua Lake. Open seasonally.
Chautauqua Lake
Explore Bemus Point, Mayville and Westfield. In the winter, rent cross-country skis from Evergreen Outfitters or find a snowmobile trail. In summer, take the free Bemus Point-Stow ferry and find a beach to swim.
Midway State Park
Ideal for small children with 18 child-friendly rides, plus miniature golf, go-karts, an arcade, a climbing wall and water games. Open seasonally.
Cattaraugus County
Griffis Sculpture Park
The 450-acre Griffis Park is home to over 250 large-scale sculptures that children are welcome to climb on. Open seasonally.
Valley of Zoar
Known for its spectacular landscapes created by deep gorges, waterfalls and forests. Hike, canoe, kayak and raft during the warm months.
Amish Trail
Follow the handwritten signs and horses and buggies to Amish businesses where you'll find a wide variety of handicrafts.
holiday valley
Known as the "Aspen of the North", Holiday Valley is home to a well-known four-season resort and charming town.
Buffalo
Albright Knox Gallery
This art museum has tons of kid-friendly activities. On the second Sunday of the month, admission for the whole family is only $5!
Buffalo Science Museum
The interactive and immersive science studio exhibit spaces are a hit with kids, as is the Explorations Early Years Gallery.
Buffalo Zoo
Check out the Arctic Edge and Rainforest Falls exhibits, as well as Heritage Farm, which replicates an 1850s farmhouse.
Explore and more Children's Museum
Every day is a play date at the Children's Museum! Exhibits introduce children to the magic of hands-on discovery.
edge of the canal
More than 1,000 events are held at Canalside each year.
Lasertron
This family entertainment center features two laser tag arenas (including the largest in the eastern United States), as well as an arcade.
Niagara Falls, New York
Cave of the Winds
Guests can walk to the Hurricane Bridge, just 20 feet from the Bridal Veil Falls. Children must be at least 42 inches tall. Open seasonally.
Whirlpool Jet Boat Tours
Adrenaline inducing tour of the Niagara River. See website for height requirements. Open seasonally.
Maiden of the Mist
Listen to the crashing waves. See the breathtaking views. Soak up every drop of powerful spray aboard the Maid of the Mist. Open seasonally.
Niagara Aquarium
A small aquarium with over 40 exhibits, 128 different species of mammals, fish, birds and reptiles.
---
Ashtabula County
Geneva-sur-le-Lac
The strip of this small village includes arcades, Putt-Putt, race cars and a canopy tour. Weather dependent.
Conneaut Township Park
In addition to swimming, you'll find a concession stand, a breakwater to climb, a large playground, and windsurfers or kites to watch.
Visit of the covered bridge
Ashtabula County has 19 covered bridges, more than anywhere else in the state.
White turkey drive-in
Get a turkey burger and root beer float, tossed in our vintage root beer barrel and served in a frosted mug. Yum. Open seasonally.
Lake County
Metroparks Lake Farm Park
Family center dedicated to agriculture and livestock. Children can milk the cows, take a horse-drawn carriage ride and meet the farm animals.
Holden Arboretum
The Holden Arboretum features over 20 miles of trails, a 65-foot-tall elevated walkway, and a 120-foot tower.
Cuyahoga County, including Cleveland
Great Lakes Science Center
Science comes to life with hundreds of interactive exhibits that provide hours of fun.
Cleveland Children's Museum
The museum, which moved in 2017, offers innovative exhibits and programs designed for children up to age 8.
Cleveland Museum of Art
Scavenger hunts and programming, including Thursday Art Stories, Sunday Open Studios for Families, and Play Days.
Greater Cleveland Aquarium
From the moon jellyfish to the giant Pacific octopus, you will discover more than 1,400 animals representing 250 species.
Rock and Roll Hall of Fame
A must visit place for music lovers of all ages.
Cleveland Metroparks Zoo
The 183-acre zoo is divided into several zones: Australian Adventure; African savannah; Hiking in the wilderness; The building for primates, cats and aquatic sports; Rainforest; and Waterfowl Lake.
---
Crawford County
Linesville Spillway
Watch the ducks walk on the backs of fish. Take some bread. Free.
Oil Creek and Titusville Railroad
Do you have a child who loves trains? The visit lasts 3 hours.
Warren County
Allegheny National Forest
This forest spans three counties, but two of our favorite hikes are in Warren County: Jakes Rocks and Rimrock Overlook. Rent canoes and boats at Allegheny Outfitters on the east end of Warren.
Chapman State Park
Visit the lake's shallow swimming beach, rent canoes and grill.
McKean County
Kinzua Bridge State Park
Home of the Kinzua Viaduct, partially destroyed by a tornado in 2003. Now walk 600 feet over the remaining support towers and look through the partial glass platform.
Rock City Park
Located in the Allegheny Forest (see Warren County), visitors can scale gigantic boulders with descending crevasse stairs and walk trails dotted with large monolithic boulders.
Pittsburgh
Duquesne Slope
Step back in time on a century-old cable car and take in the best views of downtown Pittsburgh while zipping down one of the country's few remaining slopes.
Randyland
Pittsburgh's most colorful public art is also the home of artist Randy Gilson.
Carnegie Science Center
The Carnegie Science Center offers four floors of interactive exhibits suitable for all ages.
Children's Museum of Pittsburgh
An interactive children's museum in Pittsburgh, PA, including MAKESHOP, Attic, Studio, Backyard, Garage, Garden, Theatre, Waterplay and Nursery areas.
National aviary
The country's first bird zoo.
Pittsburgh Zoo and PPG Aquarium
You'll find over 475 species represented by 4,000 animals in this combined zoo and aquarium.
Mercer County
Pymatuning Deer Park
Dozens of exotic and domestic animal species in this family park. A favorite is the "Kiddie Zoo" where children get up close to baby animals and a variety of domestic farm animals and deer. Open seasonally.
Keystone Safari
Walking and driving safaris available. You can hand feed many animals.
Clarion County
Cooks Forest State Park
Known for its stands of old-growth forest, the park's Cathedral Forest, made up of towering white pines and hemlocks, is a National Natural Landmark. A scenic 13 mile stretch of the Clarion River runs through Cook's Forest State Park and is popular for canoeing, kayaking, and tubing.
Lawrence and Butler County
McConnells Mills State Park
The spectacular Slippery Rock Creek Gorge is a National Natural Landmark and boasts scenic views and waterfalls.
Moraine State Park
Moraine State Park includes 42 miles of shoreline and 70 miles of hiking trails.
Living Treasure Animal Park
Feed the giraffes, bottle feed the animals, go on horseback, pony and camel rides. Visit a walking aviary, help feed an alligator, and visit the pirate ship's playground. Open seasonally.