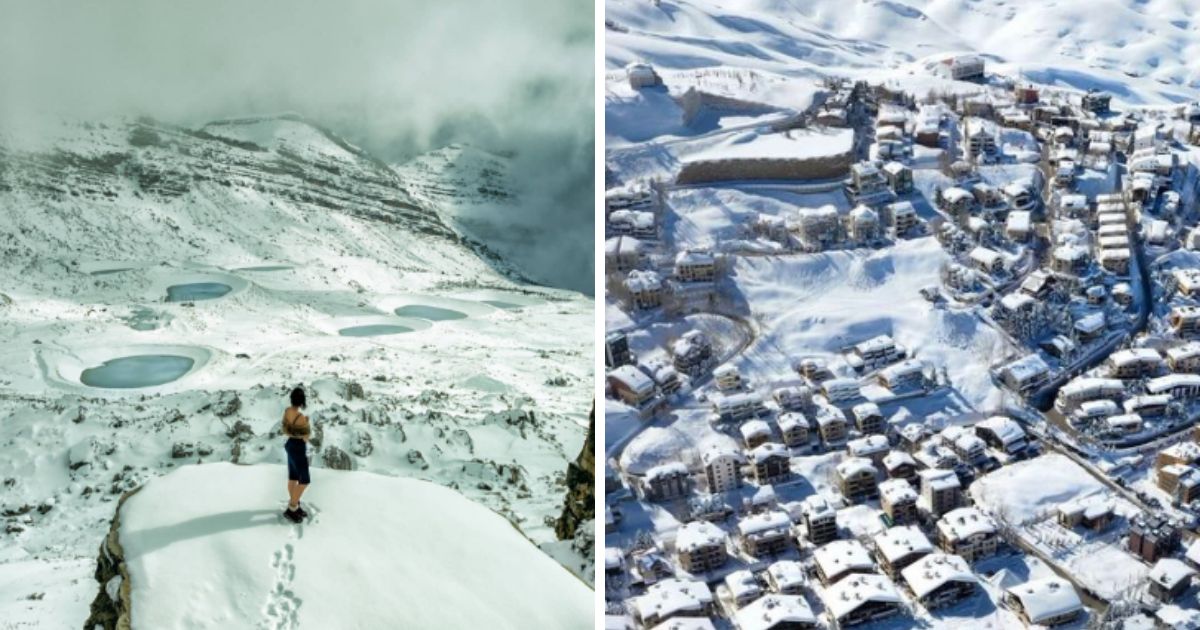 14 winter road trip ideas in Lebanon that you and your friends should put on your to-do list
Winter is particularly fascinating in Lebanon, as almost all Lebanese villages are blanketed in snow, while some even offer world-class ski slopes. Just last week, Lebanon received its first snowfall of the season.
Since "winter is coming", here are some road trips you and your friends should take to fully enjoy the snowy season in Lebanon:
Chabrouh Dam
Located in the Jabal Moussa Biosphere Reserve, Lake Chouwen is one of the best hiking destinations in Lebanon both in summer and winter, where you can see the beautiful frozen blue lake and scenic landscapes.
Jezzine
Head to southern Lebanon and visit the charming village of Jezzine, one of the liveliest villages during the winter season.
It is also an amazing natural destination, with a 70m high waterfall, considered one of the highest in the world and one of the largest pine forests in the Mediterranean.
Ehden
The mountainous village of Ehden in northern Lebanon has an incredible charm in winter, as it is completely covered in snow in a scene straight out of a painting!
Akoura
Go on an entertaining road trip with your friends and head to Akoura, a beautiful snow-covered village in the district of Byblos, located 1,600 meters above sea level. The village is home to many beautiful landscapes and a magnificent waterfall.
Sannine
The glorious Mount Sannine is a remarkable winter destination located around 2,628m above sea level, where you will have the chance to relax in a peaceful atmosphere and taste its coolest water.
Sawfar
Located 1,320 meters above sea level, Sawfar in Aley district is a marvelous mountainous region with beautiful surroundings including snow-capped valleys during the winter season and authentic cultural heritage, represented by traditional houses and residences.
Hasroun
You and your friends can add Hasroun to your winter bucket list for its magical view of towering mountains and the Qannoubine Valley, red-tiled houses, and friendly locals!
FAQ
Faqra is a magnificent destination with a panoramic and peaceful view and a historical heritage, characterized by the Roman ruins of Qalaat Faqra.
Bekaa Kafra
Bekaa Kafra is a fun destination to visit with your loved ones. It is one of the highest villages in Lebanon and the Middle East and the birthplace of Lebanon's most famous saint, Saint Charbel.
Jered Tannourine
Take a road trip 75 km from Beirut and head to Tannourine, a winter paradise with its incredible nature reserve filled with a dense snow-covered cedar forest.
Laklouk
During the winter season, Laklouk turns into a paradise on earth. Visitors can also enjoy its seaside resorts located along the village, where they can spend the night overlooking the white landscape!
Dhour Choueir
Renowned for its nostalgic atmosphere, Dhour Choueir is located in the Metn district, where people can immerse themselves in its charming natural and traditional architecture and mesmerizing view of the surrounding villages.
Cedars of God
Located 2,000m above sea level, Cedars of God, also known as Al Arz, is one of the best ski destinations for skiers, with its beautiful mountains covered in snow until spring.
Al Shouf Cedars Nature Reserve
Located in Mount Lebanon, the Al Shouf Cedars Nature Reserve is one of the oldest and largest nature reserves in the Chouf region.
Home to more than 30 species of wild and rare mammals, you can hike and admire incredible winter scenery.
Related: 13 cozy places in Lebanon to enjoy a rainy day with friends