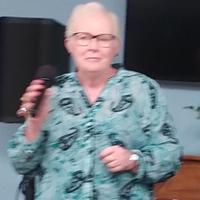 127 SENIORS: Seniors looking for travel ideas for the future | Lifestyles
On Friday, July 29, President Jim Blalock opened the weekly business meeting.
Chuck Elgin then gave the opening prayer and Gene Brown conducted the Pledge of Allegiance.
Jim thanked the sponsor of today's bingo, Life Care Center, and asked for prayers for our senior center members facing health issues. Many members of Cumberland County Seniors have contracted COVID-19 and are recovering. Eileen Clark lost her brother last week, please pray for her family. Contact Sunshine Lady Margaret Miller if you know of a member with health issues.
Jim Blalock updated everyone on upcoming senior center events:
• The 127 Corridor Sale took place from August 4 to 6. The Cumberland County Senior Center opened at 7 p.m. and served breakfast and lunch for all three days.
• Quilt tickets are now available.
• Members of Cumberland County Seniors helped prepare for Sale 127 after the July 29 business meeting. Many thanks to the members of the center who stepped up to lead and volunteer during this three-day event.
• Today's lunch was Cowboy Casserole.
• No business meetings during the Sale of Corridor 127.
• Our next game day will be Tuesday, August 9, from 11:00 a.m. to 2:00 p.m. The cost for lunch of a sandwich, chips and a drink is $5.
• The next day of country music entertainment will be August 20 from 6-8 pm.
• The center is still collecting emergency contacts for members. Please do not use your spouse solely as an emergency contact; add another trusted family member or close friend.
• The center is looking for ideas for future trips. Please submit your ideas to Sheila Johnson.
old case
• Bluegrass music every Thursday evening from 6 p.m. to 8 p.m.
• Line dancing is every Friday night from 6-8pm
• Don't forget to register your Kroger Card Charity as Cumberland County Seniors.
• Don't forget to bring your aluminum cans so that the center can give them back for cash.
• Trip registrations are on the back table.
Today's host was singer Judy Thistler.